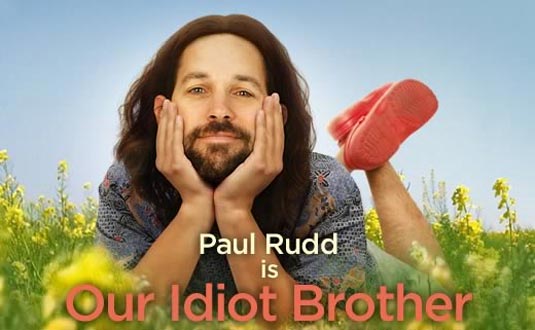 Paul Rudd specializes in playing doofuses, so acting the idiot brother in Jesse Peretz's stoner comedy is hardly a stretch. His Ned is a hippie savant who changes the world around him by being compulsively truthful.
Our Idiot Brother begins with a bummer: Ned gets arrested for selling weed to a cop at an outdoor organic market where he works. We quickly learn that Ned's not the sharpest tool in the shed. He simply hands over a bag when the cop asks please.
After an eight-month stint in the pokie, Ned is released no worse the wear. He heads home to the farm but Janet (Kathyrn Hahn), his dreadlocked old lady, has left him for another dude, Billy (T.J. Miller). Even worse, she won't give Ned his dog, a golden retriever named Willie Nelson.
Thus, Ned sets out on a journey of crashing with his mother (Shirley Knight) and his three very different sisters. Liz (Emily Mortimer) is married to filmmaker Dylan (Steve Coogan); they own a brownstone in Brooklyn and live a politically correct life. Ned's arrival shakes everything up, as is the case when he moves in with Miranda (Elizabeth Banks), a driven Vanity Fair reporter. Banks is in top form here, striking a Parker Posey pose with brown locks and even darker quips directed at her inept sibling. Jeremy (Adam Scott), with Ned (above), is Miranda's platonic best friend.
Sister No. 3, Natalie (Zooey Deschanel), has sexual identity issues. She's attached to butch Cindy (Rashida Jones), but also has eyes for Christian ((Hugh Dancy).
Ned drops bombs wherever he goes, causing mayhem in each of his sisters' lives. But his main goal is to get Willie Nelson back. Ned may not smoke pot on screen but he sure is stony. (We only get to see Janet and Billy, above with Ned, light up at the farm.) Guileless to an extreme, Ned reminds us that honestly is the best policy.